Sorry, we couldn't find any questions matching that search.
Your Fav Makeup Questions
What is sensitive skin?

Sensitive skin is skin that is generally agitated when products containing fragrances, essential oils or too many chemical additives including preservatives are applied. All of TGM products, especially our hero foundation, are precisely formulated with absolutely the minimum ingredients needed to create lightweight, glowing coverage. Co-founder Natasha, approached formulation like an elimination diet - taking everything out and introducing one by one each ingredient back in as required, and only if completely necessary!
What is clean makeup and why is it important for acne-prone sensitive skin?

Clean makeup refers to products that are free from potentially harmful chemicals and ingredients, such as parabens, phthalates, and synthetic fragrances. For acne-prone sensitive skin, using clean makeup can help reduce the risk of irritation and breakouts. The Good Mineral makeup is as clean as you can get with minimal ingredients and free from all known skin irritants and pore cloggers.
Why is it bad to cover acne with foundation?

Covering acne with foundation can be problematic for a few reasons. First, many traditional foundations can be heavy and occlusive, which can block the skin's natural breathing process and exacerbate acne by clogging pores. This can lead to more breakouts and can also make existing acne worse. Second, some foundations contain ingredients that can irritate the skin, such as fragrances and certain preservatives, which can lead to further inflammation and redness. Third, when we put foundation on active acne, it can create a breeding ground for bacteria, leading to more breakouts and even secondary infections. Additionally, when using makeup to cover acne, it's important to be mindful of the tools you use. Using dirty makeup brushes or sponges can introduce more bacteria to the skin and make acne worse. It's always best to consult with a dermatologist to get the right treatment for your acne-prone skin.

These reasons are why we created The Good Mineral and use the dab dab dab application method. Extracting only the best ingredients, our powders contain NO known skin irritants or pore cloggers and offer lightweight, natural glowing coverage for ALL skin types. As our products are loose powder based, we have focused on supporting the day-to-day healing of acne-prone skin instead of treating it.
What should I look for in makeup for acne-prone sensitive skin?

When looking for makeup for acne-prone sensitive skin, it's important to look for products that are non-comedogenic, oil-free, and free of potentially irritating ingredients such as fragrances, parabens, phthalates, and alcohol. Look for makeup that is specifically formulated for sensitive skin, as these products are less likely to cause irritation and always patch test the product before applying it all over your face. It's also important to look for ingredients that have calming and anti-inflammatory properties such as zinc oxide, kaolin clay and salicylic acid. Always remember to clean your face and brushes before applying makeup and remove makeup thoroughly before going to bed to avoid clogging pores and causing breakouts.

TGM makeup is all fragrance free, oil free, talc free, preservative free, contains no synthetic dyes and is non comedogenic. It has been specifically designed for acne-prone sensitive skin.
Why Zinc Oxide and Kaolin Clay?

Zinc oxide and kaolin clay are both ingredients that can be beneficial for acne-prone sensitive skin when used in makeup products. Zinc oxide is a mineral that has anti-inflammatory and astringent properties. It can help to soothe irritated skin and reduce redness. It also has natural sun protection properties, so it can be a good choice for people who are also looking for a makeup product with SPF. Kaolin clay is a gentle, natural clay that is known for its ability to absorb excess oil and impurities from the skin. It also has soothing properties that can help to calm irritated skin. 

The only other ingredients found in The Good Mineral powders are Sericite, Iron Oxides, Mica, Ultramarine Blue and Titanium Dioxide which are minerals used for pigmentation and to give the foundation its color and consistency.
Can wearing makeup cause acne or make it worse for people with sensitive skin?

Wearing makeup can cause acne or make it worse if the products you use are not non-comedogenic and contain ingredients that can clog pores. It's important to choose makeup products that are specifically formulated for acne-prone sensitive skin.
How can I determine if a makeup product is truly clean and non-toxic?

The best way to check if a makeup product is truly clean is to check the ingredient list. Less is better! Always avoid products that contain parabens, phthalates and synthetic fragrances as these are not clean ingredients. Choose The Good Mineral for truly clean makeup!
What are the best tips for applying clean makeup for acne-prone sensitive skin?

It's important to always start with a clean and moisturized face. For application, use either a light hand or a flat brush with the dabbing method. Our Iconic Flat Blending Brush is the perfect brush for applying powder foundation, especially for acne-prone sensitive skin. It is crucial that you apply makeup by dabbing to not irritate the skin and allow the makeup to simply sit. Dragging your brush across the face will inflame your skin and make it worse.
Are there any clean makeup options for people with oily or acne-prone skin?

Yes, there are many clean makeup options available for people with oily or acne-prone skin, such as mineral powders (The Good Mineral, of course), oil-free foundations, and tinted moisturizers. It's important to remember that not all mineral powders are the same, so always check what's actually in it and remember to look for those minimal, natural, calming and anti-inflammatory ingredients.
Are there any clean makeup products for people with darker skin tones?

Yes, many clean makeup brands offer a wide range of shades for people with darker skin tones. At The Good Mineral, we currently offer 12 adaptable shades from Beige 1 to Coco 6. 
Are there any clean makeup products for people with redness or rosacea?

Yes, there are clean makeup products specifically formulated to help conceal redness and calm irritated skin. With Rosacea you want to know that you can build coverage where you need it most, but without looking like you've got loads of foundation on. Our Loves You Back 3in1 Powder Foundations are packed with undiluted mineral pigments of color, providing the most natural looking, non-pore-clogging coverage with every gram of powder. Most importantly, dab dab dab to apply! Don't buff or dust off or drag your skin - just gently press the powder down using our Iconic Flat Blending Brush. Other makeup products that will help conceal redness are green tinted primers and concealers.
How should I remove clean makeup for acne-prone sensitive skin?

It's important to remove all makeup thoroughly before going to bed to avoid clogging pores. You can use a gentle, oil-based cleanser or makeup remover to dissolve makeup, followed by a water-based cleanser to remove any remaining traces of makeup and impurities.
Shipping & My Order
Can I update my order?

Please email care@thegoodmineral.com as soon as possible if you would like to change your order. Our teams work very hard to process orders quickly, but we'll do everything we can to assist you with your request.
What if I receive the wrong product?

In the unlikely event that you have received a different product from the one you ordered, we are very sorry about that! Please contact care@thegoodmineral.com with your name and order number, and we'll send out the correct product straight away. 
Where can I see my order history?

You can find all orders you have placed with us in your personal Account. If you checked out as a guest, you will have received a confirmation email detailing all individual orders.
How long does a refund take to process?

Once you have contacted care@thegoodmineral.com and we have received your products, refunds usually take up to 10 business days to appear on your credit card statement.
What are your delivery times?

We are currently offering standard shipping throughout the USA which means your order should take between 3-10 business days to arrive. If there are shipping delays outside of our control, your order may take up to 15 business days to arrive.
Do you ship worldwide?

The Good Mineral currently ships to all 50 states of the USA where our warehouse is based. We are working on creating bases in other countries in the near future. However, if you don't live in the USA and can't wait to try The Good Mineral, we can ship worldwide from our current warehouse. Please note; if you are ordering from outside the USA, your order will be posted as DDU (Delivered Duty Unpaid) which means you will be responsible for paying taxes and import duties once your products arrive.

Delivery can take up to 4 weeks.

Also consider ordering through Amazon.com
Is shipping free?

We offer free domestic shipping with orders over $75 and free international shipping with orders over $100.
When will my order ship?

Once your order is complete, it is sent to our warehouse to be processed. If you order on a business day before 11am EST, your order will likely be picked, packed and shipped that day. If you order after 11am EST your order will be processed and shipped the following day or next business day. Business days are Monday - Friday, excluding U.S. federal holidays. Please note, during federal holidays, sale and peak times your order will take longer to be processed through our fulfilment centre.
How can I track my order?

You will receive a tracking number once your order is on it's way. This will be sent to the email address given when you placed your order. Please note, some carriers can have delays on updating their tracking page.
Product
How do I return my product?

Oh no - we're sorry to hear that you didn't love your purchase!

Our goal is to provide all our customers with makeup they love. If you don't think it's right for you, we want to fix it!

Please contact care@thegoodmineral.com with your order number to give us that chance.
How do I care for my brushes?

- Wash in warm soapy water swirling bristles around in your palm.

- Rinse thoroughly, gently squeezing the hairs as you rinse until no more foam.

- Allow to air dry naturally.
GOOD

to know

Shop some of our most popular products and prepare to fall in love.
Break-out Prone Skin? 5 Things Not To Do!
Few things can affect our confidence like unexpected skin breakouts. We all aspire for that flawless, healthy glow, and at The Good Mineral, we understand this better than...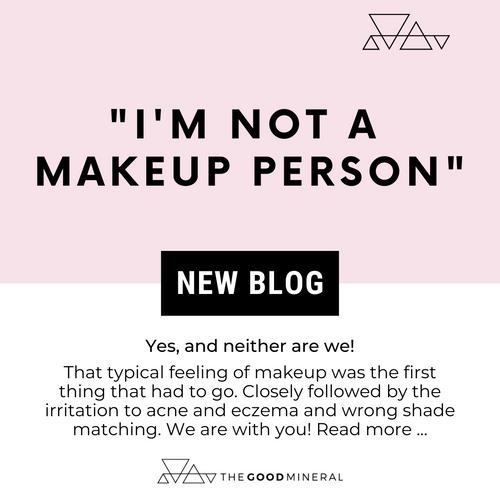 What is clean makeup?
Clean means different things to brands - there is no standard and so we decided to be clear about what it means to us - This is what 'clean' means to The Good Mi...